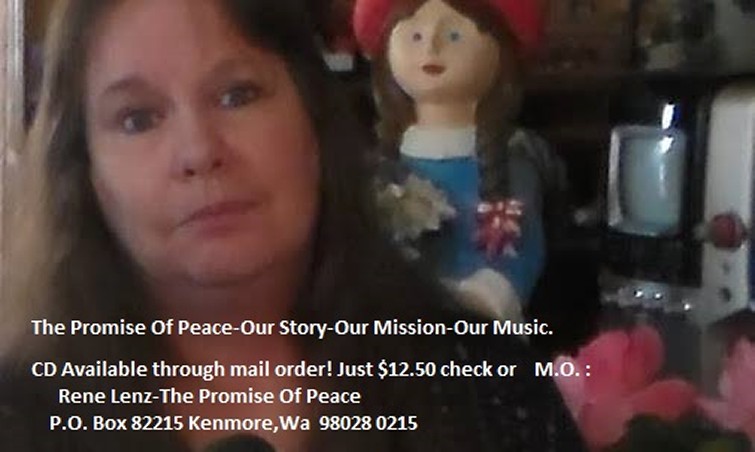 OUR NEWEST SONG:
"MY PRECIOUS CHILD OF GOD" will be included on this CD album ordered
through the mail as a bonus track!! Just follow mail order instructions on above picture.
"OUR STORY-OUR MISSION-OUR MUSIC"
OUR NEWEST ALBUM.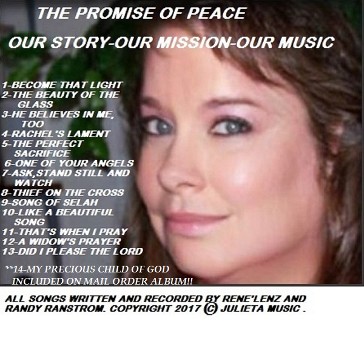 To listen to The Promise Of Peace Music:
https://soundcloud.com/the-promise-of-peace
~~~~~~~~~~~~~~~~~~~~~~~

THE FAMILY THAT PRAYS AND PRAISES TOGETHER.
We are "The Promise Of Peace" A Christian family who write and produce their own inspired music.
Our Mission: To make this world a little better through positive,uplifting, Spiritual Music.To encourage and uplift others and help strengthen their walk with our LORD.To share our faith,Hope and Love for our LORD through our songs. (Our mission statement keeps growing!!)
We are Randy Ranstrom,Karen Campbell and Rene'Lenz.Two song-writing sisters and one very talented,lone musician brother,who arranges and performs all our music.We can be heard on Youtube ,Google, and many other places online.Our sound is a little old fashioned,but never out of style.People of all ages appreciate our music. This is amazing to us , because we are almost senior citizens!!
Lead singer,Rene'Lenz has been nick-named The Karaoke Granny, because of her many Karaoke performances.We sing at church,weddings,memorials,senior residences, etc.
Rene' recently had a cancer scare and had to have surgery.She was told it may damage her voice.Her brother,Randy helped her to record all of her songs prior to surgery ,so she could live her dream of becoming a recording artist.
The LORD spared her voice, so she is still able to sing and has written and recorded many new songs since the surgery.
Listed on this home page is some Youtube links for our newest singles, CD Baby links,and if you would like to order a CD through mail order,P.O. box instructions below the album.
Thank you so much for the visit, and please visit our Youtube and become a subscriber.
VISIT OUR YOUTUBE CHANNEL.
http://www.youtube.com/c/ReneLenz
~~~~~~~~~~~~~~~~~~~~~~~~~~
Other Albums Available: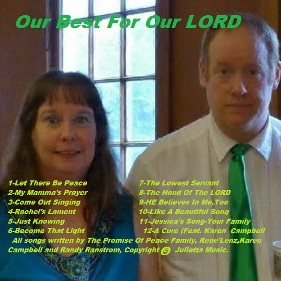 "Our Best For Our LORD"
Our 12 best songs now available on CD ,through mail order!!
1-Let There Be Peace 2-My Mamma's Prayer 3-Come Out Singing 4-Rachel's Lament
5- Just Knowing 6-Become That Light 7-The Lowest Servant 8-The Hand Of The LORD
9-HE Believes In Me,Too 10-Like A Beautiful Song 11-Jessica's Song-Your Family 12-A Cure
http://cdbaby.com/cd/thepromiseofpeace9
Just $12.50 !! Please send check or MO to:
Rene'Lenz-The Promise Of Peace
P.O. Box 82215 Kenmore,Wa. 98028-0215
*Specify Album Name.
*CD Baby Link for album, (Excludes Jessica's Song)
~~~~~~~~~~~~~~~~~~~~~~~~~~~~~~~~~~~~~~~~
OTHER ALBUMS BY THE PROMISE OF PEACE:
:Now available for download AND through mail order.
Cd Baby links follow album.Our P.O.Box Address below listings, to order our CD albums through the mail.$12.50 each.Specify which album.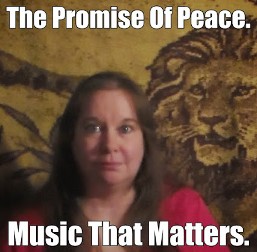 "Music That Matters"
Songs: (My Mamma's Prayer-So Many Miracles-Love Of Our Lord King-Come Out Singing-The Lowest Servant-The Strength Of The Lord-The Difference-Let There Be Peace-The Hand Of The Lord-My Precious Gift-A Cure(featuring Karen Campbell)
Mail order: $12.50 Check or MO to:
Rene Lenz-The Promise Of Peace
P.O. Box 82215,Kenmore,Wa. 98028-0215
~~~~~~~~~~~~~~~~~~~~~~~~~~