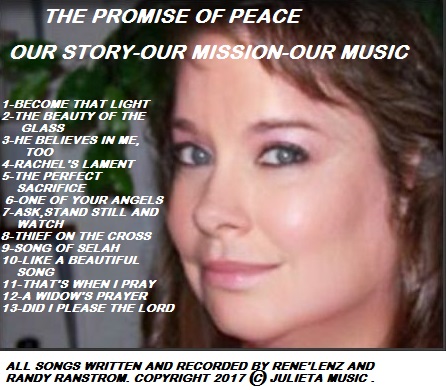 Songs include:
Become That Light- The Beauty Of The Glass-HE Believes In Me,Too-Rachel's Lament-
The Perfect Sacrifice-One Of Your Angels-Ask,Stand Still And Watch-Thief On The Cross-
Song Of Selah-Like A Beautiful Song-That's When I Pray- The Widow's Prayer.
Our Amazon Store Page:
https://www.Amazon.com/Promise-Peace-Story-Our-Mission-Our-Music/dp/B075KPS84K/ref=sr_1_2?
CD Baby Page: http://www.cdbaby.com/Artist/ThePromiseofPeace
Or send check or M.O. for $12.50 to:
The Promise Of Peace-Rene'Lenz,
P.O.Box 82215 Kenmore,Wa.98028-0215
(Physical CD includes newest song:"Did I Please The LORD?"
The Promise Of Peace is a Family Christian Music Group.Rene' Lenz ,Karen Campbell, and Randy Ranstrom.We write and perform our own music and were recently able to make our music available in Amazon and CD Baby!.The Promise Of Peace,Mp3 downloads.Our CDs are now available through mail order.
Please check out our Home Page and New Services Page. We've made our Christian Music Our Mission and hope to inspire others with positive musical messages.Our songs are appreciated by all age groups ,which is amazing to us because we are almost senior citizens!! Please visit our Home Page for our Story,Our Mission statement, and more of Our Music links.Thank You so much!
Please check us out.